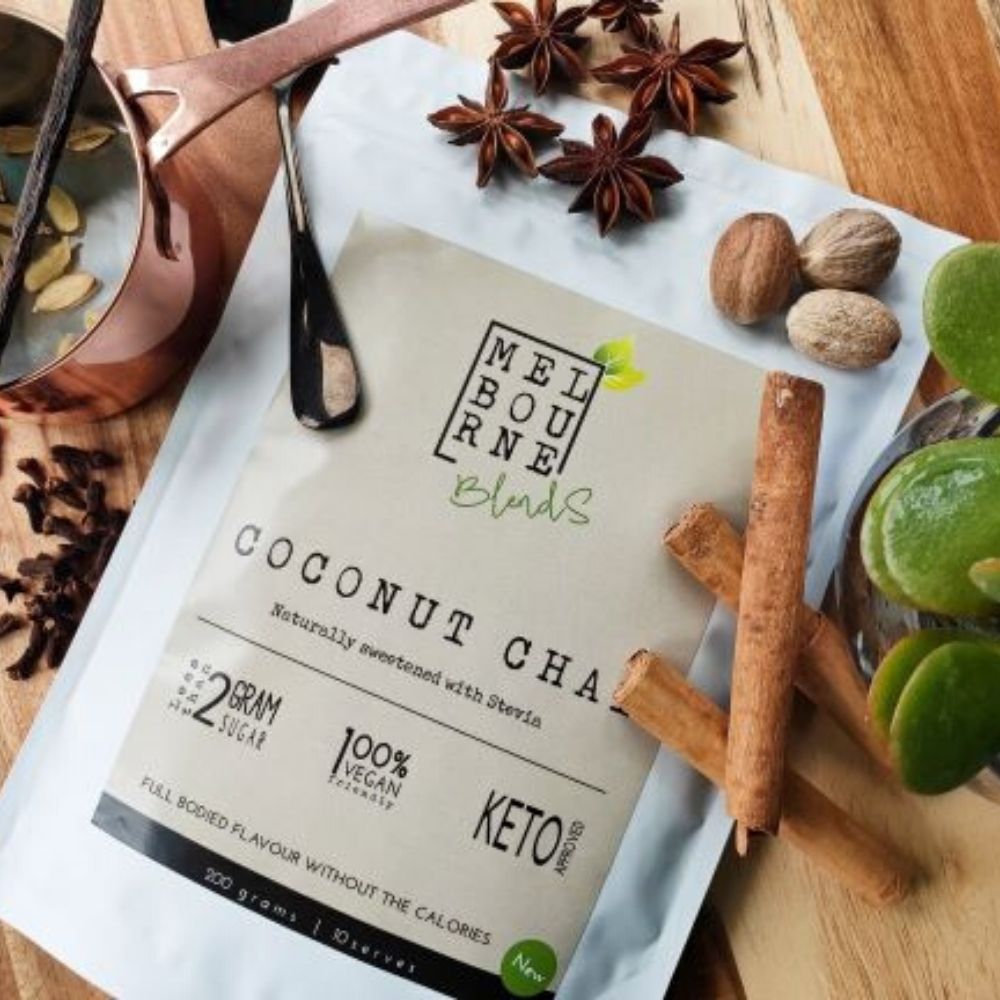 Chai Latte - Coconut Chai Latte powder - Vegan
$15.00 $17.00
 
Dairy Free

100% VEGAN 

1.1 grams of sugar per serve 

Perfect

macro nutrients

 for a KETO diet

Sweetened with Natural Organic Stevia

Full bodied flavour without the calories

Made with Organic Coconut milk powder

No need to brew, simply add 180ml of hot water

Spices: cinnamon, all spice, cardamom, nutmeg, vanilla, ginger and clove

Made in Australia
Product overview:
Our coconut Chai latte has a lovely spice flavour with undertones of creamy coconut.
This blend has all the goodness of coconut milk. There's no need to do anything but add hot water, which makes our coconut blend very convenient for travel, work or even a quick sneaky drink in bed.
A staple in everyone's pantry and a great addition or alternative to the traditional Chai tea mix, our blends are easy to drink with no need to brew, strain or remove tea leaves from your cup.
This particular blend is one of our favourites - being ranked the 'Best Chai Latte' within our office.
Directions for use:
Simply add 4-5 heaped teaspoons into 180ml of hot water.
No need to strain, no need to wait - Drink straight away!
Hot tip - Great to add into your shakes or desserts. Give it a go and don't forget to post your creative creations on Instagram and tag us... we would love to see them!
Customer Reviews
04/15/2021
Bianca S.

Australia
Coconut chai
Nice flavour. A little bit lumpy. Overall great Vegan and low calorie chai.
05/12/2021
MelbourneBlends
Dear Bianca, thank yo for your review. Glad you enjoy MB Coconut Chai. It is 100% Vegan. This blend is made with real spices and Organic Coconut milk powder. Coconut powder naturally tempt to lump when exposed to lower temperature. Coconut powder will dissolve easy when warm water is added and mix through. We do not use Anti-caking agents, preservatives, whiteners, emulsifiers, or filler in any of our products.
07/10/2020
Amina

Australia
Amazing and delicious
I love this chai latte, it is very creamy and the coconut taste is very pronounced and delicious. Knowing that it isn't made of anything fake makes it even better. Plus the bonus that it is vegan is great, I don't feel quilty about drinking it!
08/05/2020
MelbourneBlends
Dear Amina, lovely feedback. We developed Coconut chai Latte for our Vegan customer and of course for all other customers to enjoy healthy and delicious drink.
06/29/2020
Ajsela

Australia
Best vegan chai latte!
Can't believe that this chai latte is vegan as it still has a very creamy taste! The spices go so well with the coconut flavour, super yummy!
07/02/2020
MelbourneBlends
Thanks for your feedback Ajsela. We are glad you enjoying healthy Melbourne Blends Chai Latte!