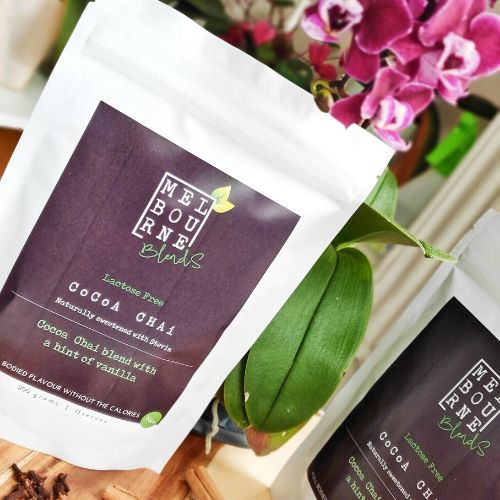 Chai Latte - Cocoa Chai Latte powder - Lactose Free
$15.00 $17.00
Lactose Free
Gluten Free naturally
High in Calcium
4.5 grams of Protein per serve
5 grams of carbs per serve
No added sugar
Sweetened with Natural Organic Stevia
No need to brew, simply add 180ml of hot water
Spices: cocoa, cinnamon, allspice, cardamom, nutmeg, vanilla, ginger and clove
Made in Australia 
Product overview
This full-bodied Lactose Free Cocoa Chai Latte has the highest protein and calcium count across all our blends with no added sugar while still being indulgent and sweet.
This product can be used in applications like weight management, sport nutrition, medical nutrition and other where high nutritional value, high protein and low carbohydrate content is preferred and where stomach friendliness, easy to digest properties are important. 
Instant Lactose Free Cocoa Chai Latte is so creamy and smooth, with no need to add any extra milk, making it very convenient for travel, work or even a quick sneaky drink in bed.
A staple in everyone's pantry and a great addition or alternative to the traditional Chai mix, our blends are easy to drink with no need to brew, strain or remove tea leaves from your cup.
Directions for use:
 Simply add 4-5 heaped teaspoons in your favourite cup or mug.  Pour in 180ml of hot water (not boiling). Stir well and enjoy!
No need to strain, no need to wait - Drink straight away!

Don't be afraid of the spices left in the bottom of the glass, this is because our Chai is made from real ingredients and not the fake stuff.
Hot tip - Great to add into your shakes or desserts. Give it a go and don't forget to post your creative creations on Instagram and tag us... we would love to see them!